My role as a manager of a very busy and very large warehouse involves a considerable amount of walking during the day. Before using this device the pain in my knee would gradually become worse as the day went on but it has now significantly improved. Highly recommend
This patella stabiliser features a C buttress, which provides customisable support on either the inside or outside of your knee
Designed to protect against medial and lateral subluxation, a dislocated knee, patellofemoral pain syndrome, runner's knee, chondromalacia, patellar tracking, and alignment issues.
Patella Stabiliser | Patella Knee Brace
FREE FAST DELIVERY ACROSS IRELAND ON ALL ORDERS €60+ or more - (save €25)
3 DAY DECEMBER SUPER SALE … Don't Miss Out
Why Choose Our Knee Support Brace?
A pioneering design which can be adjusted according to the shape of the patella
Improves medial and lateral stability of knee, helping reduce injury and assist recovery
Use for knee arthritis, sprains, ACL, MCL, meniscus tears, general knee pain, athletic protection, surgery recovery ect
Comfortable Lycra breathable neoprene perfect suitable for exercise and daily use
Featuring tow adjustable straps, easy adjustable according to different compression needs.
DUE TO CURRENT DEMAND
PLEASE ALLOW 5-7 DAYS DELIVERY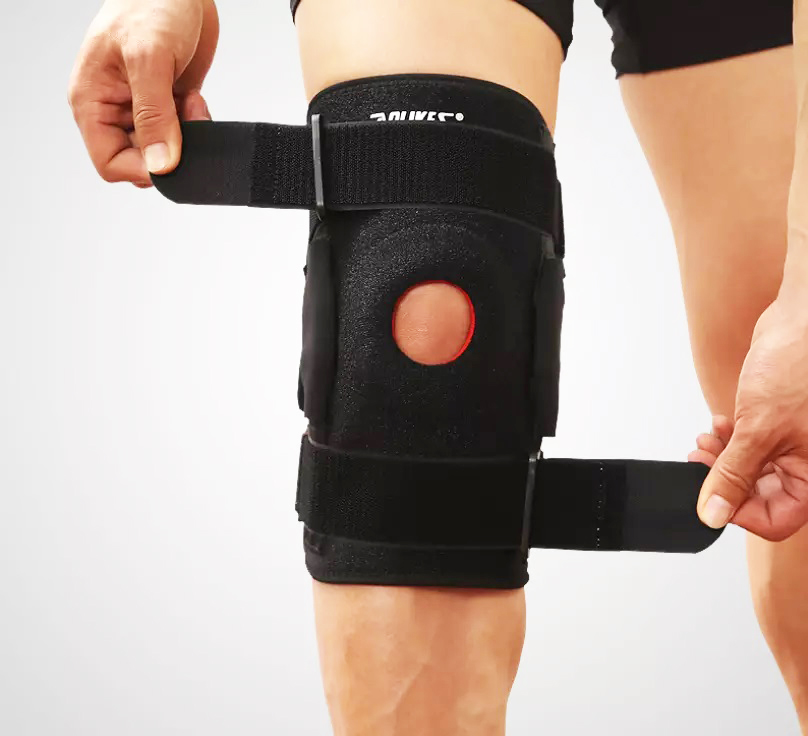 FULLY-CUSTOMIZABLE
The straps can be attached to almost any point around the support for a tailored fit and prevent slippage during even the most
active exercise.
REINFORCED STABILIZER RING
Our open-patella design relieves stress in the knee area, while the padded stabilizer prevents displacement and guides the knee cap into proper motion.
SUPERIOR-QUALITY BREATHABLE
Breathable fabric provide extra which helps retaining warmth to aid and speed up tendons during activities.
CAN BE WORN ON EITHER THE RIGHT OR LEFT KNEE
Ensuring warmth and boosting blood circulation comfort and minimize skin irritation.
Functions
These knee brace will support great help for ACL, PCL Tear, Tired, Aching, Fatigued, Swollen knee, Post-Surgical Recovery, Athletic Recovery, Arthritis, Bursitis, Jumpers Knee.
Whether you're Running, Basketball, Jogging, Soccer, Football, Golf, Cycling, Tennis, Fitness, Hiking, Volleyball, Skiing ect, we can provide the best protection for you!
Applicable People
Professional Athletes, Sports Enthusiast, Runners, Basketball Players, Fitness Enthusiasts, Patients with Knee Joint Disease.
Feel Our Knee Brace Support Difference
Breathable Neoprene (Latex-Free)
High-quality Strap System
Non-slip design for ultimate comfort and support
Caring for Your Braces
Do not Dry Clean
Do not Bleach
Do not Tumble Dry
Do not Iron
Cold Water; Hand Wash Only
Anatomy of the Knee Joint
To better help with understanding the different patella tracking disorders it helps to look at the anatomy of the knee joint. The primary joint contains the Femur (thigh bone) and Tibia (shin bone). This joint has two compartments, the medial (inside of the knee) and lateral (outside of the knee) aspects. Finally, the patella sits on top of the thigh bone and acts as a fulcrum for your quad muscles. Without your knee cap the big strong quad muscle wouldn't have the advantage and strength to help us run, lunge, or jump. The patella slides within the groove on the thigh bone when you straighten and bend the knee and is held in place by ligaments and tendons.
Feature of our Patella Stabiliser 
What Are The Symptoms of Patella Tracking
Disorder and Will A Brace Help?
There are a multitude of symptoms that could indicate you have patellar tracking disorder. Pain experienced at the front of the knee during physical activity is a strong indicator. Pain with repetitive knee bending, frontal knee pain with squatting or sitting for a long period of time, or a grinding sensation that is painful during movement. The pain is often located behind or sometimes on the outsides of the knee cap. If it is below the knee cap, closer to the shin, you may have patellar tendinitis or tendinosis.
The first thing to do is stop the activities that make it worse and give the knee a break. For some of you that's not an option so altering the knee cap tracking by using a brace will allow you continue biking, running, and playing sports with less pain. To see if a brace would help try the following sequence:
Provocative Testing:
Find an activities that aggravates your symptoms, note how it feels. For example slow stepping down the stairs or a single leg squat.
Perform that activity again but with you or someone you trust pushing your knee cap in different directions including: up, down, towards the other leg, and outwards
If the pain is relieved with altering the knee cap location a brace may help with pain and kelp you keep your activity levels
Why Does PatelloFemoral Dysfunction Cause Pain?
The pain presentation with PatelloFemoral Dysfunction and the related patella tracking disorders is abnormal as compared to the pain processes in the rest of the body. The pain will usually be non-specific, meaning it's generally on the inside or outside of the knee but the point specific location may change. The simplest and best way to look at PatelloFemoral Dysfunction is to use the thinking of a scale.
One side of the scale is forces produced and on the side is our bodies ability to translate or spread the load out evenly. Therefore if one side of the scale of off then the other side may be off too. Our knees love homeostasis, or staying in a comfortable range. As an example if there is an activity that unexpectedly causes too much load on the knee cap such as running a marathon without ever training that might tip the scale drastically.
When the knee cap can no longer transfer load correctly this causes the body to sound the alarm to make the body stop, it signals pain. Over the years of research we have found the that structures most likely responsible for signaling pain are the fat pad directly behind the knee cap and the surrounding tissue called the capsule.
This is why bracing might help, it helps evenly distribute the load until those structures can calm down and allow you to resume the original activity such as running in this example.
How Long Does Patellofemoral Tracking Disorder Take to Heal?
In most cases, if treated with a proper physical therapy program PFPS will resolve within 6-8 weeks. This does depend on the severity, aggravating factors such as if the person continues to play sports, etc. Some tips to speed up the recovery:
Discontinue or modifying aggravating factors such as running, jumping, and squatting until symptoms resolve
Try a tracking brace that can help calm down symptoms
See a physical therapist that can help educate on a proper rehab program
Don't forget to set the body up for success in healing: Get proper sleep, nutrition, exercise.
Frequently Asked Questions
Which payment methods are accepted?
We currently only accept credit card payments, PayPal & Crypto currency. More payment methods will be added in the future.
What currency are the prices displayed in?
All of our prices are displayed in € Euro
What are your delivery options and how long will it take?
IRELAND: Free Delivery, 5-7 days
OUR DELIVERY PARTNERS INCLUDE
Do I get a receipt for my order?
You will be sent a receipt for your order by email after payment is made. You will also receive a confirmation email with a tracking number once your item has been shipped.
Do you have a shop location?
We are a "online supplier", with no physical shop or premises. In this way, we are able to pass our considerable savings directly to you.
Are your products new or second hand?
All of our products are brand new! We sell end of line, excess stock and deleted lines from some of the largest wholesalers at a fraction of the price!
Do your products come with warranty?
Unless otherwise stated all items purchased from Clearance Warehouse come with a standard consumer warranty.
Can I return my item?
We will gladly Refund or Exchange an item if:
The item is faulty
The item is not the same as the description or as shown or advertised
The item does not perform as per the manufacturers intention
You may not be entitled to a Refund or Exchange if:
You have changed your mind and no longer require the item
You decide you cannot afford the item
You found the item cheaper elsewhere
The style, colour, or size is not suitable
You were responsible for the fault
All refund requests MUST be accompanied with an original receipt or other proof of purchase.
Please feel free to discuss our policy with our Manager prior to purchase.
Note that measurements quoted on our website and affiliated sites and social media channels are subject to slight variances, when purchasing items measure all items to ensure they fit your space.
How do I know if my order has been shipped?
Once your order is shipped, it will be marked as complete in our database and you will receive a confirmation email with a tracking number.
I haven't received my order yet! Is it lost?
If you have any concerns with your order, please contact our support team by email and they will be glad to assist you. Most emails are answered within 1 business day.
Support Team: [email protected]